Master Clocks
Ashton has been a leader in master controlled clock systems for the past 30 years. We now represent two major suppliers, Lathem Time and Bogen clock system. We exclusively represented the Standard Elecrtric /IBM line until they were bought out and discontinued, approximately 10 years ago. We still support a full-time clock repair department that rebuilds every manufacturer's secondary clocks. Our repairs are with brass, high quality replacement motors. While the repair may cost a little more, the clock, when finished, is basically brand new and should last another 30 years. All of our repaired clocks are tested on our computerized clock board for three days before returning them to the customer.
The question: Do I buy the less expensive replacements with all plastic motors and parts, or do I spend a little more for qualilty? Which ever you decide, we are alway glad to help. Below you will find a partial list of product offerings. Please contact us for repair or the design of a complete wired or wireless controlled clock system.

Lathem Products made in the USA

LTR-512 Series Master Control Series
Lathem Master Controls are ideal for schools, hospitals, airports, and industry.
With Lathem's wall clocks, the Master Control series can improve attendance, org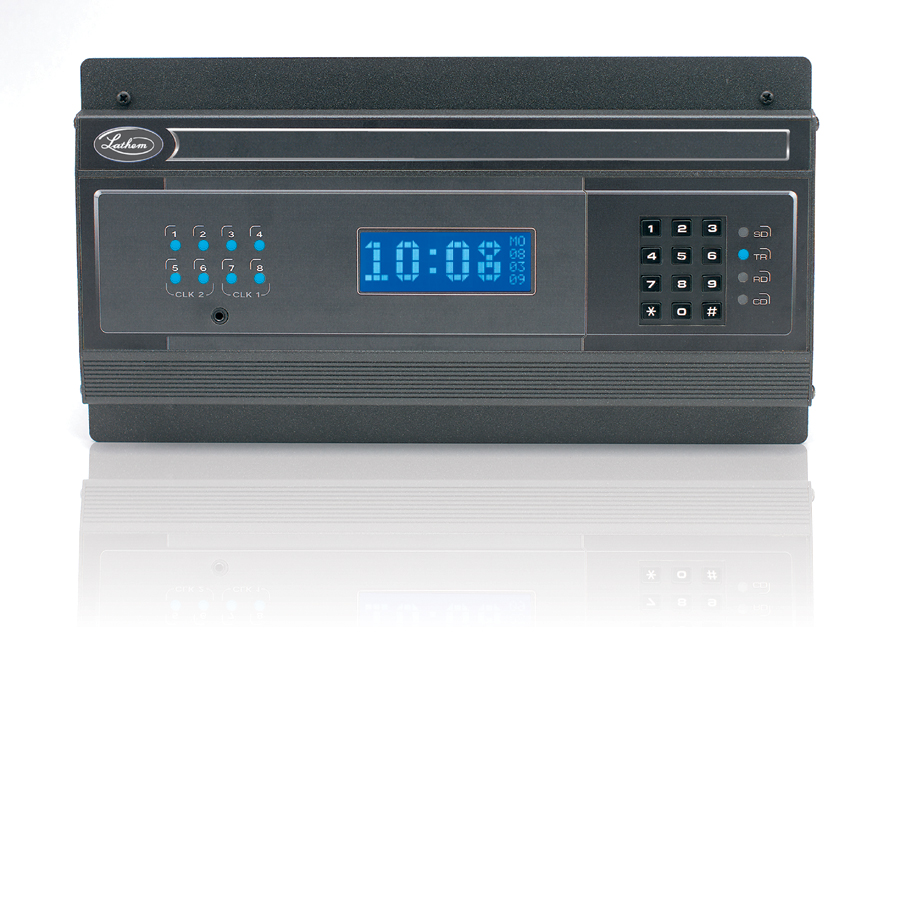 anize schedules, and increase efficiency. The system can be programmed, via keypad, with eight password-protected bell schedules, which may be used in combinations; each capable of executing 64 multi-function "events" (512 aggregate). There are two models, LTR4 (4 circuits) and LTR8 (8 circuits).
It can store schedules and controls from any RS232 /RS485 connected computer running Lathem's MasterLink software or can be access and diagnosed remotely, via modem (Model LTR8-512M).
The LTR Series controls virtually any type of secondary clock system. Lathem manufactures both synchronous and minute impulse secondary wall clocks in a variety of shapes, sizes, and clock dial types.
LTR-GPS Satellite Receiver & Synchronizer
Lathem's LTR-GPS is a Global Positioning Satellite receiver using 12-channels to acces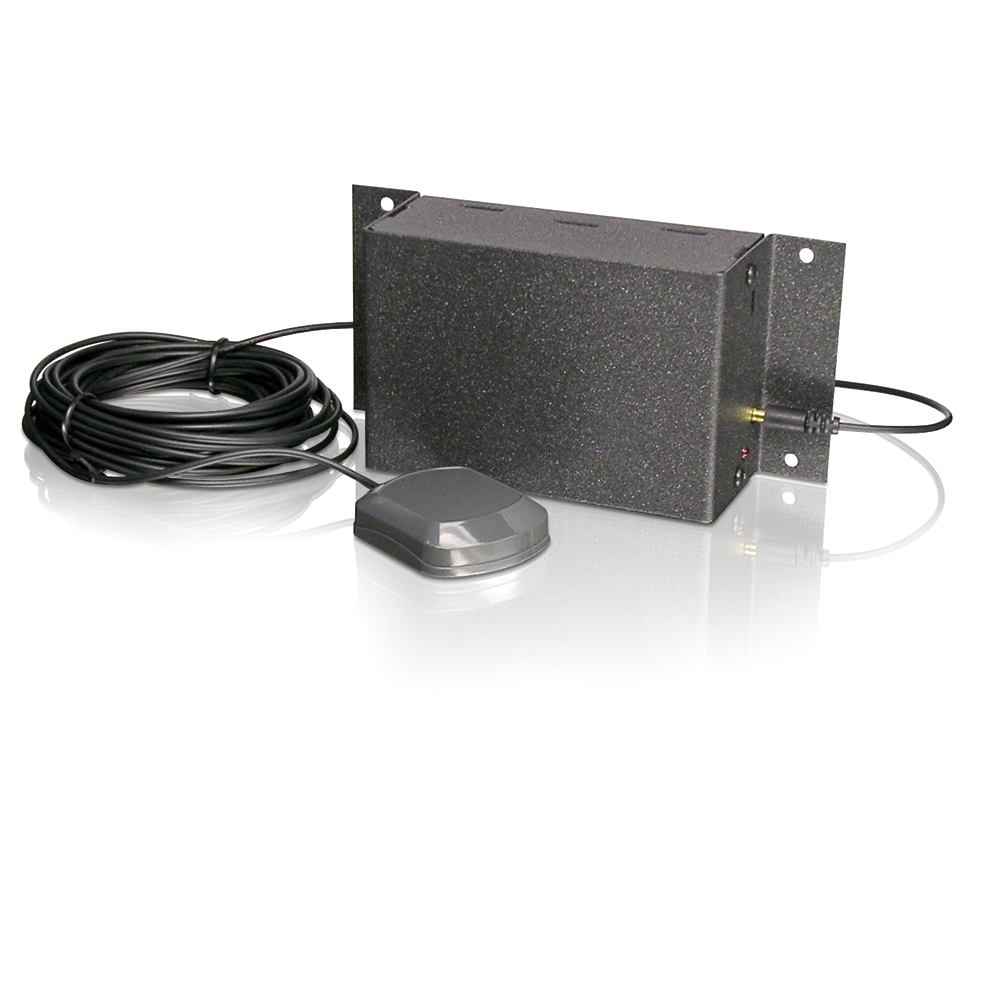 s the accurate date and time signal transmitted each second by 24 satellites in orbit around the globe.
The system includes an amplified exterior GPS antenna. An integrated cable links the antenna to an interior receiver module which retransmits the signal to selected Lathem devices.
System Includes:
LTR-GPS satellite synchronizer
115vAC, 2.7w, 50/60Hz power adapter

Active GPS antenna with 25 foot cable

Antenna mounting bracket and hardware
Analog Wall Clocks

Attractive and extremely easy to read, Lathem analog wall clocks are available in a variety of faces, sizes and mounting styles.

Fine brass movements provide silent, trouble-free operation. Hidden stem sets are mounted behind the case top to prevent tampering.

Schools, Hospitals, Airports, and other institutions have trusted the Lathem name for precision time keeping for decades.
Digital Display Wall Clocks
The digital display clocks can be used as a stand-alone system or as a secondary to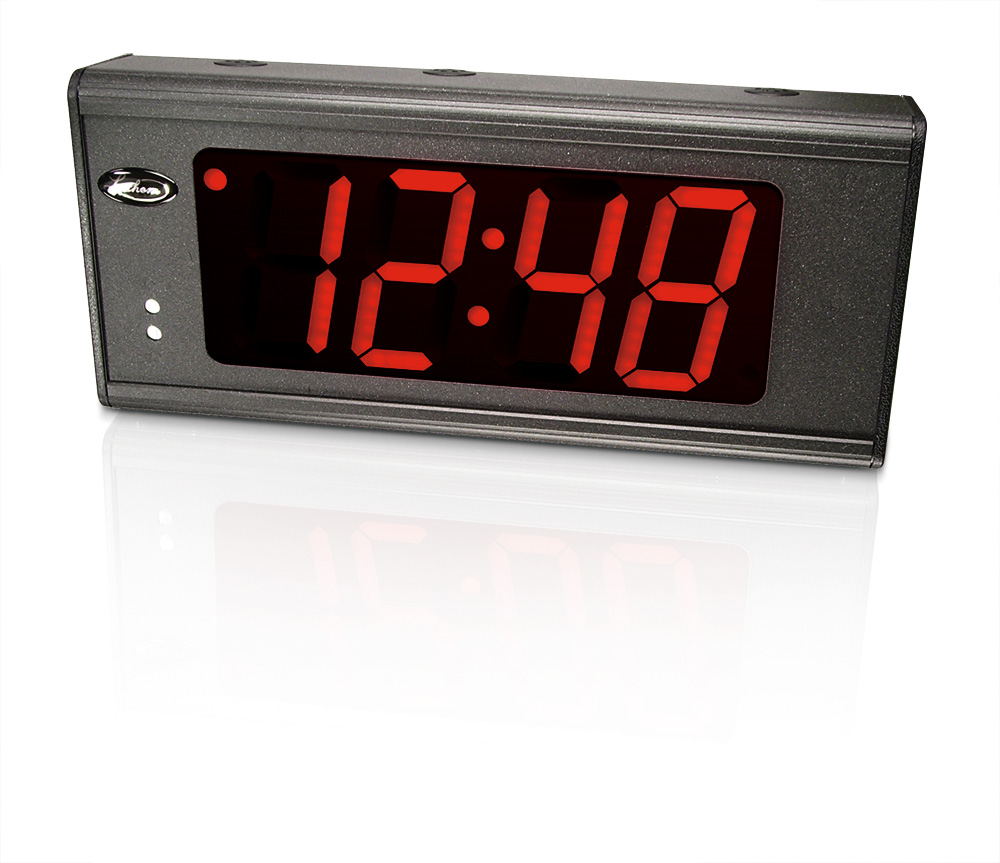 virtually any master controlled system. This flexibility allows you to install additional clocks or replace worn clocks in an existing analog system.
The four-digit display is highly visible from 100 feet and can be mounted directly to the wall or to a single gang outlet box. With other kits, it can also be dual wall or dual ceiling mounted. A vented hole plug is provided for 1/2-inch conduit.
During power failures a 9-volt alkaline battery provides continuous timekeeping. When power resumes, the display illuminates the correct time.
Bogen Engineered Clock Systems
---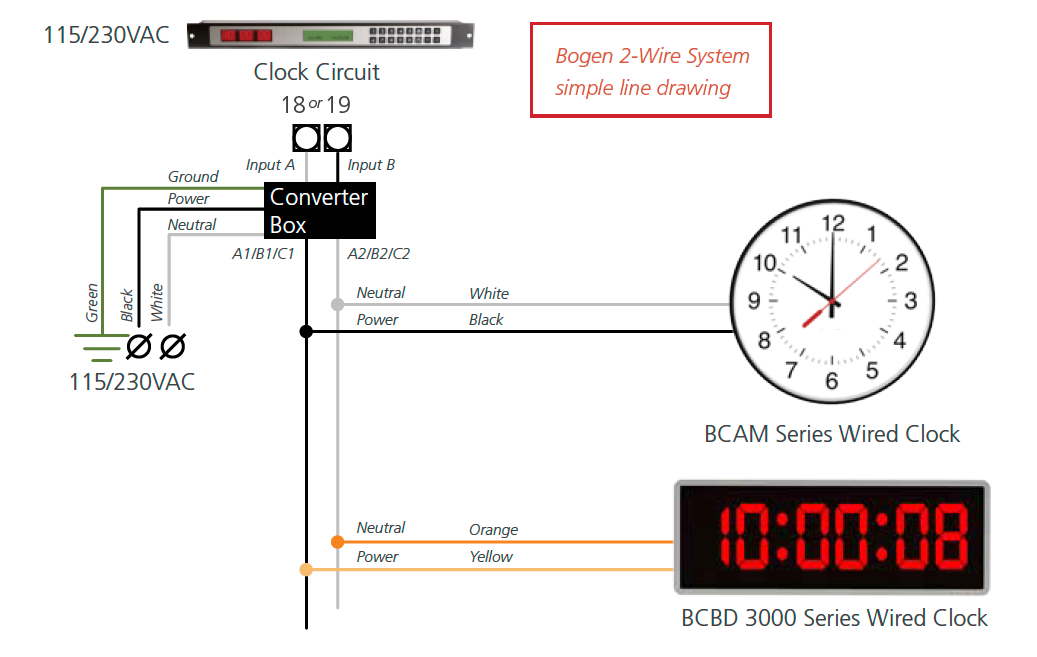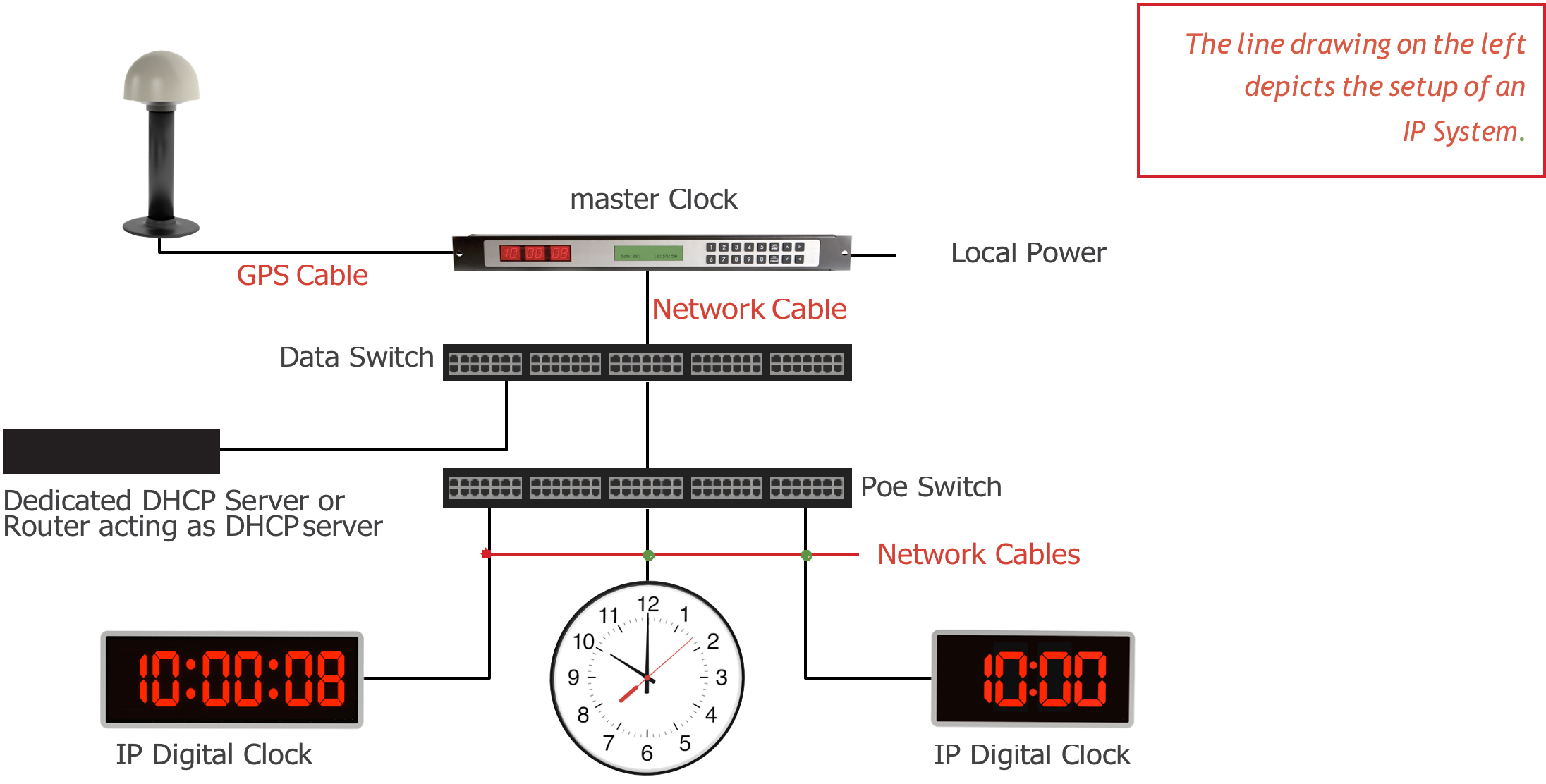 Whether you're designing a new school, hospital, or office, or you're retrofitting into an existing facility, you will benefit from Bogen's advanced time systems.
Bogen Communications specializes in designing control equipment to fit your exact parameters. We offer timepieces ranging from simple quartz clocks, IP Clock Systems, GPS systems (synchronized to UTC within 1 microsecond anywhere on the globe), as well as everything in between. Our highly tooled, microprocessor based products allow us to take a unique approach to the market by providing advanced solutions at competitive prices.