24/7 Service
24-Hour Protection
We understand that our customers' service needs don't always fit into a typical 9-5 workday. Our 24/7 service department ensures that, regardless of your service needs, we will be there to assist you with any installed systems.
We provide individual customer attention in addition to:
Radio-dispatched Certified Service Technicians
Tailored service contracts
Extended warranty programs
Test/inspection prevention maintenance programs
Remote diagnostic and system management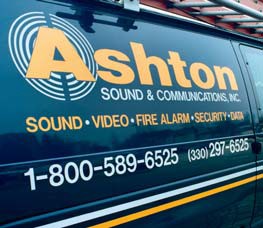 "I See Your Trucks Everywhere!"
Our fleet of 10 trucks is always ready to serve our customers at any time of the day or night. Our service personnel have been factory trained to focus on the satisfaction of our customers as their top priority, and we have provided them with the latest systems, resources, and parts inventory for their success in meeting this service goal. We often offer loaner equipment to keep your system up and running. This loaner equipment is free to the customer for the first 30 days of use.
This is the reason Ashton Sound & Communications, Inc. is considered one of the area's leading, rapid response service companies. Providing quality service when YOU need it, day or night.
Please give us the opportunity to service you and develop a long-term, mutually beneficial relationship with you and your facility. Contact us today.